21 August 2023
Channel 3 Staff Volunteers Cared for the Environment with Tree Planting and Making Saltlick and Wildlife Food Sources in Nakhon Ratchasima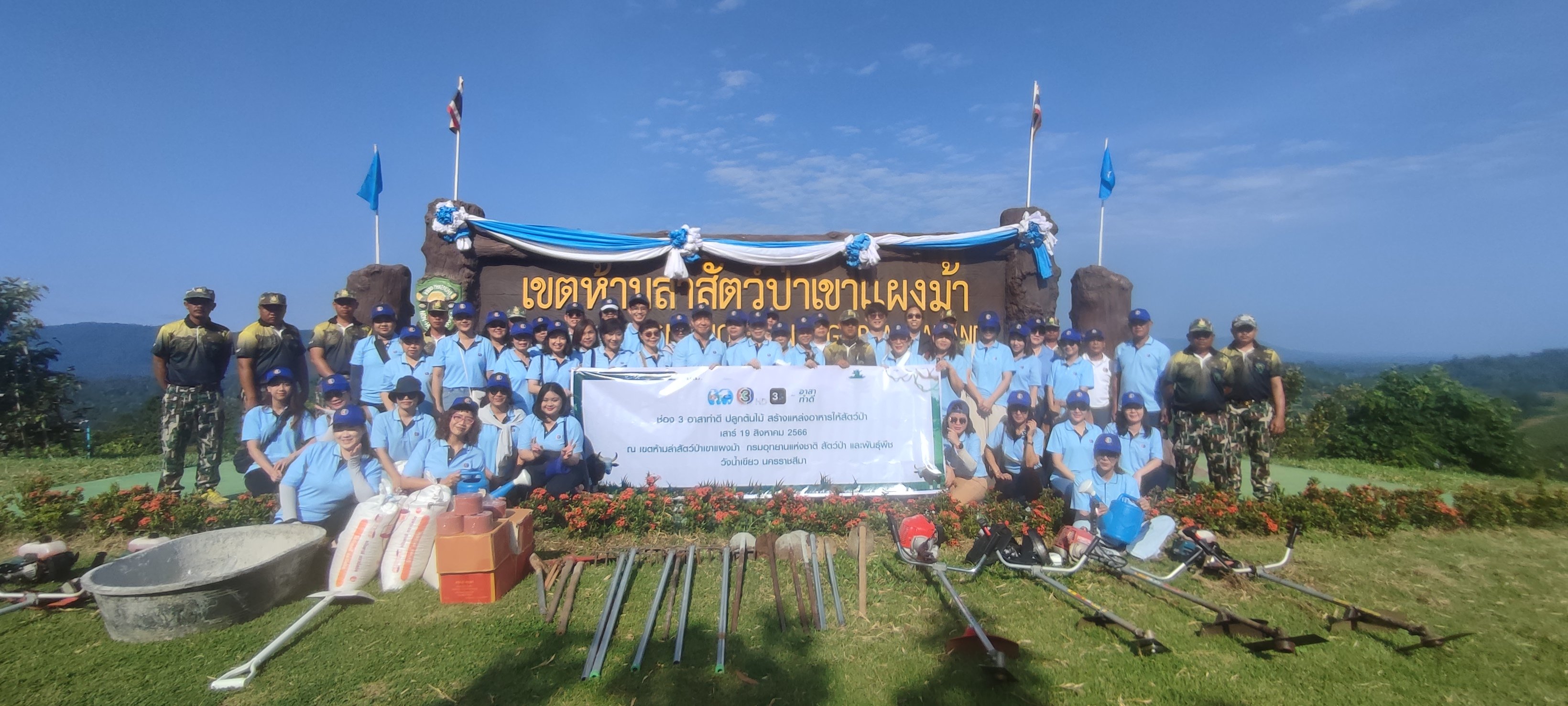 On the 18th and 19th of August 2023, BEC World Public Company Limited and Channel 3, led by Mr. Charkrit Direkwattanachai, EVP-Corporate Affairs & Communications, along with the executive and volunteer staff participate in the Channel 3 Asa-Tham-Dee: Plant trees and establish wildlife food sources at Khao Phaeng Ma , with the assistance of the Department of National Parks, Wildlife, and Plant Conservation, Khao Phaeng Ma Non-hunting Area, Wang Nam Khiao District, Nakhon Ratchasima.
Khao Phaeng Ma is abundant in greenery and wild animals, so in addition to planting trees to expand the forest's green space, "Channel 3 Asa-Tham-Dee: Plant trees and establish wildlife food sources" also did landscape improvement of the area and established food source for wild animals for an abundant forest. Meanwhile, the locals gained security and protection from the invasion of wild animals such as bulls, elephants, bears, wild boars, muntjacs and numerous types of birds in search of food. The volunteers of Channel 3 collaborated to mow the grass and weeds that prevent the growth of "Ruzi grass", the nutrient source. The volunteer also learnt to create artificial salt licks to improve the minerals that wild animals require, as well as learning about natural ecosystems through wildlife spotting by Ban Khlong Sai Wildlife Conservation Community Enterprise. The mood was full of excitement and happiness. Additionally, the volunteer staff earned merit through the activity that promotes Buddhism, such as offering food and offerings for monks, listening to a sermon, and received blessing from the Venerable Luang Pho "Kanha Sukkamo" at Subthawee Dhammaram Monastery for the prosperity for all.
Many organizations have provided assistance in organizing such activities, including S&P Syndicate Public Company Limited for the volunteers' 100 snack boxes, Diary Group (2007) Company Limited for 4,200 boxes of rubber gloves which were offered to Subthawee Dhammaram Monastery in order to be useful in the way of Buddhism and to continue to serve as public benefit.
As mass media and content creators, Channel 3 adheres to the principle of business with social and environmental responsibility. The Company encourages the creation of content that improves the quality of life and well-being as well as preserving natural
resources and the environment in order to continuously stand alongside Thai society and achieve sustainable development together.