28 March 2023
The Great "Beloved Festival 53rd years: Good for Hearts" Channel 3 Superstars' Football Match. Purple 12 – 8 Yellow Goals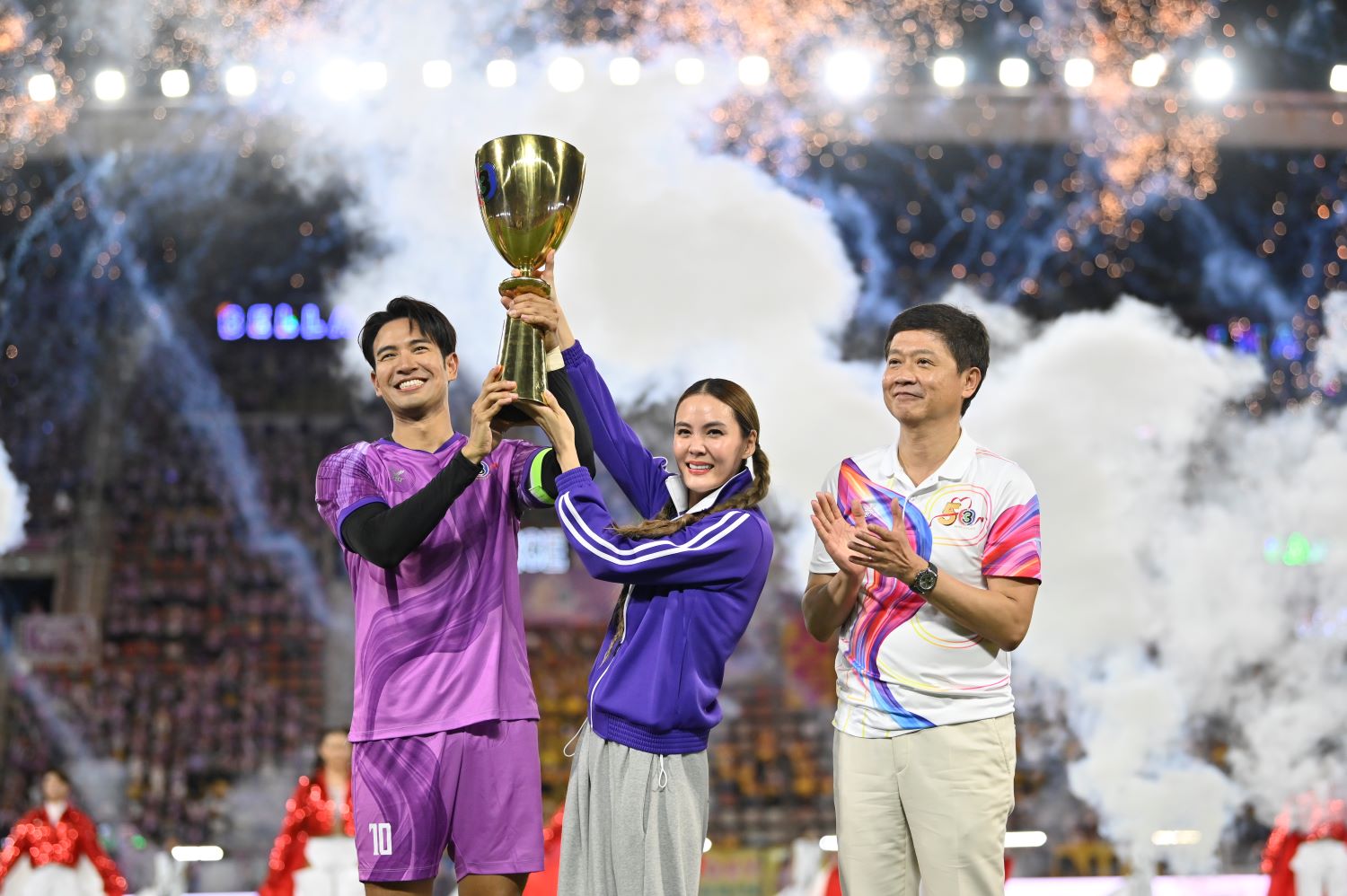 26-03-2023: "Beloved Festival 53 years Good for Heart" The greatest superstars' football match joined by Chanhel 3 Superstars, on Sunday, March 26 2023 at Thammasat Sports Center, Rangsit. The Purple Team won the match: 12-8.
The game LIVE at 16.00 with a great Opening Show and Half-Time Show, starting with the appearance of the key actors running down from the stands to the field, who are Boy Pakorn, Great Warinthorn, Nadech, Mario, and Mak Prin, following by the group of new superstars to sing a welcome songs. After that, many male and female actors will gradually come out to join the big show, led by Bella Ranee, Bow Melda, Yaya Urassaya, and Mint Chalida. While Kimberly joined the mother gang on BUDDY CAR, paraded out to greet the fans, followed by a Yamaha Fazzio motorcycle parade and a handsome van driving around the field. The host are two hilarious hosts "DJ Nui" and "Pat Napapha"; while Big Ja Sait Kreekul joined with Boom Supaporn to describe the game..
There were major surprises for the audiences in the stadium from our key sponsors. The first prize was from Toyota New Yaris - Premium S model (presented by Mr. Natthon Sriniwet, Acting Executive Vice President, Toyota Motor Thailand Co., Ltd.,), and the second prize istwo Yamaha Fazzio Hybrid motorcycle prizes (presented by Mr. Jirapat Saipetch, General Manager of Marketing Department of Automobile Group , Thai Yamaha Motor Co., Ltd.); both presented the vehicles' keys to Channel 3, that were received by Mr. Surin Krittayapongpan President of Television Business, BEC World Public Company Limited. The keys were already passed on to the lucky winners at the end of the show.
For the match, the two Queens, Ann-Janie. are the Manager of the Yellow and Purple teams. Both bluff each other like mother meets mother since before the match, and they also supervised the both captains "Boy Pakorn", the yellow team and "Great Warinthorn", the purple team. The players are, for instance, Pope Thanawat, Nadech Kugimiya, Mark Prin, Nine Naphat, James Mar , Gulf Kanawut, Pon Nawat, James Jirayu, Alek Theeradet, Louis Scott, Alex Rendell, Puen Kanin, Denkhun, Peck Premanat, Krating Khunnarong, Ryu Wachirawit, Ice Panuwat, Kongthap Peak, Pop Tagoon, Job Thatchaphon, Kao Noppakao, Min Peerawit, Boat Tara, Champ Chanathip, Ball Kamman, Peter Pan, Smith Passawit, Junior Kach-bundit and famous news anchor "Kitti Singhapat" with drama producer "Earn Nithipat".