09 December 2022
Channel 3 organized "Channel 3 Asa-Thamdee: Sustainable Waste Management Activity"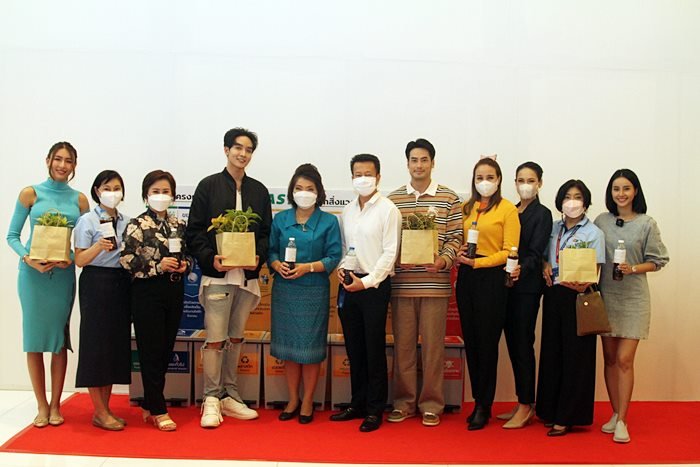 On December 7th, 2022, Channel 3 by Mr. Charkrit Direkwattanachai, EVP-Corporate Affairs and Communications, executives and employees along with a team of leading actors, i.e. Pakorn Chatborirak, Kongthap Peak and Passakorn Krausopon, news anchors, i.e. Nitinart Rathniyom, Kamonwon tripong, Juthathip Phakdeekul together with Patcharin Srivasupirom and Pamela Pasinetti from "Zaab Plaza" variety show, joined an activity "Channel 3 Asa-Thamdee: Sustainable Waste Management Activity", under the collaboration between Department of Environment, Bangkok Metropolitan Administration, Khlong Toei District, Plastic Institute of Thailand, Best Care International (Thailand) Co., Ltd., and Wongpanit Suvarnabhumi Recycle Station Co., Ltd.
In 2021, Thailand produced 24.98 million metric tons of household waste. With a population of around 69.8 million people, Thai citizens generated 360 kilograms of waste per person per year on average. This issue has become much more important and needs to be seriously considered.
As a media operator and one of the Public-Private Partnerships (PPPs) Project "Sustainable Plastic Waste and Waste Management", Channel 3 has played a vital role in sharing the knowledge and enhancing an awareness of waste management, and sorting household waste at the source to recycle process at all levels of Thai society which could reduce the number of greenhouse gas emission and the cost of waste management through TV programs and diverse environmental activities throughout the year.
According to December 4 every year is the National Environment Day, Channel 3 together with 5 partners organized "Channel 3 Asa-Thamdee: Sustainable Waste Management Activity" to raise awareness on waste management through activities, included utilizing digital platform for waste management, learning to sort and recycle via waste sorting games, bringing a bottle and refilling it with liquid detergent and bio extract, selling and buying recyclable waste station, and zero waste station.
Channel 3 has continuously demonstrated its social and environmental responsibilities, especially, waste management issues which have to encourage all sectors and all levels to manage properly. As a medium, we will pave the way for sustainable waste management and social development.