25 August 2022
Channel 3 Signed MoU to Launch "The Green Shelter Project for Friends in Need (of "Pa") Volunteers Foundation"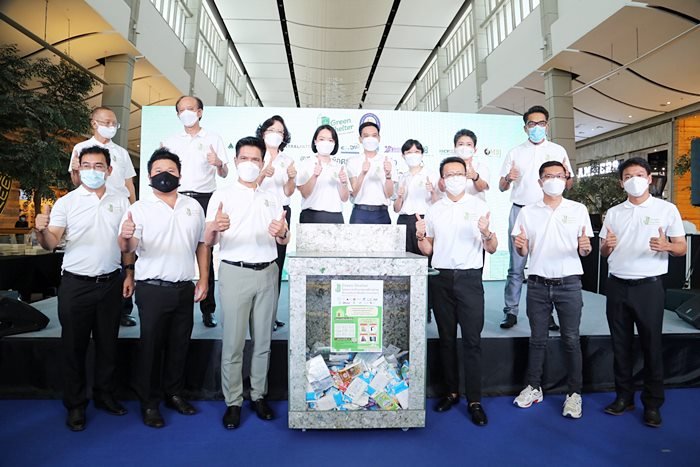 On August 24th, 2022, BEC World Public Company Limited (Channel 3) by Mr. Charkrit Direkwattanachai, EVP-Corporate Affairs and Communications, signed a Memorandum of Understanding to launch "The Green Shelter Project for Friends in Need (of "Pa") Volunteers Foundation". The Green Shelter Project continues the success of the Green Roof Project, which the end of term was in June 2022, to encourage beverage carton collection and recycling to create new products in the construction category, such as roofing sheets, eco board, eco brick, door frame for the victims of natural disasters. This first phase of collaborative campaign will start from September 1st, 2022 to August 31st, 2025, with a total 14 major partners and endorsers, namely, the key founding partners: Friends in Need (of "Pa") Volunteers Foundation, Thai Red Cross Society, BJC Big C, 360 Degree Entertainment (TV 360 news program), and the Department of Environmental Quality Promotion, Ministry of Natural Resources and Environment, together with the new partners: Central Pattana Public Company Limited, and Bangchak Corporation Public Company Limited, which support the expansion of beverage carton collection, alongside project endorser, including Relief and Community Health Bureau, Thai Red Cross Society, as well as a recycling business group: Fiber Pattana Co., Ltd. Eco Friendly Thai Co., Ltd., Recycoex Co., Ltd., Advanced Mat Co., Ltd., and M.B.J. Enterprise Co., Ltd. which will continue the project to further benefit to Thai Society. BEC World Public Company Limited (Channel 3) is responsible for communications and public relations support of the project across the country.
Over the past 12 years, the Green Roof Project has collected more than 2,500 tons of used beverage cartons and recycled them into 68,000 roofing sheets, which were distributed to the communities affected by natural disasters. Channel 3 by "Jaew Rak Lok Project" raised awareness among Thai people to collect used beverage cartons more than 208 tons within 6 months to the recycling process to make furniture and contributed to Border Patrol Police Schools throughout Thailand. Channel 3 will continues the success of the Green Roof Project by collaborating with the partners to leverage the potential for increasing the number of collecting used beverage cartons throughout Thailand and recycled them to the products in the construction category.
Mr. Charkrit Direkwattanachai stated that "Channel 3, as Mass Media and role model of Thai Society, will raise the awareness and encourage beverage carton collection among Thai people. The best way is not to generate the waste at all, if not, recycling is necessary. If we put in a little more effort in waste management, including used beverage cartons, we will eventually reach our goal.
Individuals interested in donating used beverage cartons to the project can do so at "drop-off" stations at all Big C Super Centers nationwide and some of Mini Big C Supermarket in Bangchak gas station in Bangkok, as well as Central Department Stores and affiliated office buildings across the country will begin piloting at 18 locations in Bangkok and surrounding provinces. For more information, please check out the Green Shelter project website at www.tetrapak.com/th/thaigreenshelter and www.facebook.com/Thaigreenshelter. For people who are interested in becoming a project volunteer can contact the project call center at 02 747 8881.