20 September 2022
Channel 3 volunteers together with "Zaab Plaza" variety show joined force in the "Channel 3 Asa-Tham-Dee: Coastal Cleanup in Rayong" activity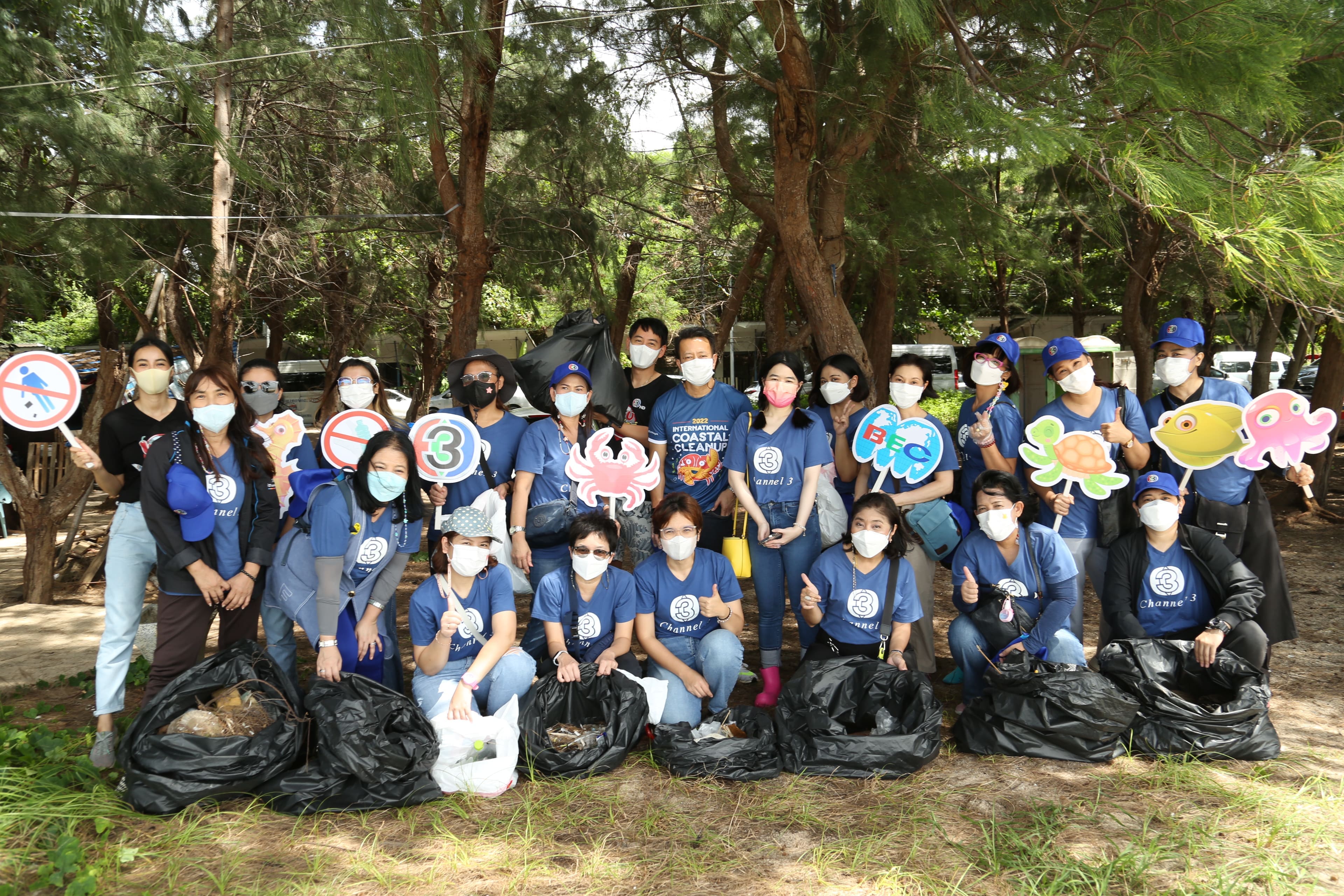 On Saturday, September 17th, 2022, Channel 3 led by Mr. Charkrit Direkwattanachai, EVP-Corporate Affairs and Communications, together with executives, employees, and "Zaab Plaza" variety show hosts, i.e. Patcharin Srivasupirom, Lerchan Goh-air, Pamela Pasinetti joined the "Channel 3 Asa-Tham-Dee: Coastal Cleanup in Rayong" activity in the International Coastal Cleanup Day 2022 under the "#PullingOurWeight" campaign, along with Dow Thailand Group, together with 26 private and public sectors to help clean up the Payoon Beach and other beaches which are tourist attraction in Rayong Province with a distance of over 25 kilometers. All participants were encouraged to collect at least 1.8 kilograms of garbage and separate different types to be properly disposed of, according to the estimate indicates that the waste is generated at the rate of 1.8 kilograms per person per day, in order to collect the amount of waste discharged into the sea to the appropriate waste management process and return it to processing and maximizing its value in line with the circular economy model. After the coastal cleanup activity, the volunteers of Channel 3 also visited the exhibition of innovations in recycling and waste management, and buying the products from community enterprises in Rayong.
After the event, the volunteers of Channel 3 joined activities of releasing young crabs to the crab condos and taking a boat tour to explore the ecosystem of the mangrove forest, then visited the oldest building on Chumpol road in Rayong City called "Kee Pong" with Sino-Portuguese architecture.
Channel 3 realizes that garbage and plastic waste are the vital issue that all sectors have to take responsibility. Thailand ranks sixth in the list of the world for dumping plastic waste into the sea. Approximately 2 million tons of plastic waste can be recycled only 0.5 million tons, while 1.5 million tons are brought to landfill and burning. The remaining plastic waste gets into the sea and damages 200 types of sea life eventually. As a media, Channel 3 will raise awareness among Thai people to separate different types of garbage and waste properly in line with the goal of the roadmap that Thailand would reduce the amount of plastic waste at least 50 percent by 2027.