13 June 2022
Channel 3 announced line up drama contents for the last half of 2022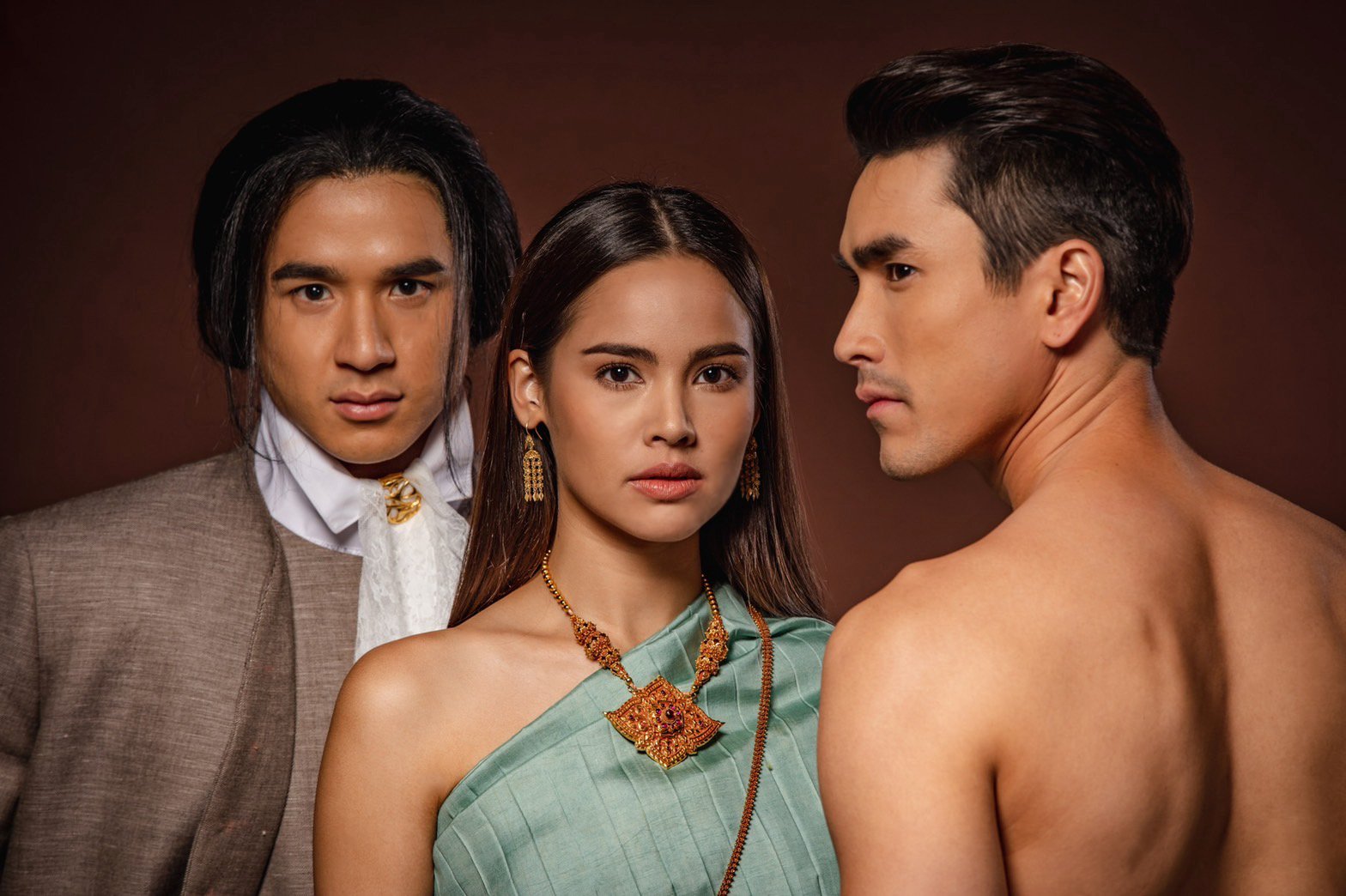 'The Deadly Affair' (พิศวาสฆาตเกมส์) stars Jirayu Tangsrisuk (James) and Yeena Salas (Gina) with Tidarut Puerthong (Enjoy), Purita (Namwan), Em Apinun, and Chattarika Sittiprom (Care). Mam Thitima Sangkapitak from Feel Good Entertainment created this.
'Lip Gloss Spy' (สายลับลิปกลอส) is a drama from Broadcast Thai Television that stars Pakorn Chatborrirak (Boy) and Pichukkana Wongsarattanasin (Namtarn) with Prama Imanotai (Punjan) and Kannarun Wongkhajornkrai (Prang).
'You Are My Makeup Artist' (มัดหัวใจยัยซุปตาร์) is from Who & Who and produced by Varayuth Milinthachinda; it stars Kanawut Traipipattanapong (Gulf) and Janie Tienposuwan (Janie).
'My Friend, The Enemy' (คู่เวร) stars Thanchanok Good (Patricia), Monchanok Sangchai-piangpen (Mo), Nawasch Phupantachsee (Pon), Itthipat Thanit (God) with Natthawut Skidjai (Poh), Patcharin Srivasupirom (Namfon), and Tui-tui Putachart. This is created by King Somching Srisuparb from Good Feeling.
'Retribution' (สาปซ่อนรัก) is from TV Scene by Pin Nattanun Chawee-wong that stars all-time superstars Mai Charoenpura and Mam Kathaleeya McIntosh to meet with Nuttanicha Dungwattanawanich (Nicha) , Khunnarong Pratesrat (Krating), Tara Tipa(Boat), and more. The other coming up one from TV Scene is 'Conniving Bedfellows' (ชายแพศยา) that stars Natthawut Skidjai (Poh), Masu Junyangdikul (Masu), Panuwat Premmaneenan (Ice), Thakrit Tawanpong (Phet), Ann Sirium, Ranida Techasit (Preem), and Chattarika Sittiprom (Care).
'Bad Romeo' (คือเธอ) is the latest drama by Anne Thongprasom from Thong Entertainment. It stars Urassaya Sperbund (Yaya) and Mario Maurer (Oh) with Chutimon Chuengcharoensukying (Oakbab).
A romantic comedy, 'Eye-koy-hug-jow' (อ้ายข่อยฮักเจ้า) from Love Drama by Varayuth Milinthachinda, stars Khunnarong Pratesrat (Krating), Eisaya Hosuwan (Oom), Panuwat Premmaneenan (Ice), and Thunyaphat Phataraterachaijaroen (Namfah).
'You Touched My Heart' (ที่สุดของหัวใจ) is produced by Hong Thannithi Chan-aekasith from Hok-See-Eiew. It is the first time of Puttichai Kasetsin (Push) for leading role at Channel 3, also stars Thanchanok Good (Patricia), Pitchapa Phanthumchinda (Pear), Kummun Klomkeaw (Ball), and Rapheephong Thapsuwan (Bright).
'The Kinnaree Conspiracy' (ลายกินรี) is created by Act Art Generation, directed by Pongpat Wachirabunjong and Ake-naree Wachirabunjong. This period drama stars Nadech Kugimiya (Nadech) and Urassaya Sperbund (Yaya), with Chaiyapol Poupart (New), Savika Chiyadech (Pinky), Diana Flipo (Diana), and Jiryu Tantrakol (Got).
'The Sup'tar 2550' (ซุปตาร์ 2550) is from Citizen Kane by Noi Bussakorn Wongpuopun. It directs and stars by Teeradech Wongpuopun (Kane) with Anne Thongprasom.
'The Lady of the Forest' (ป่านางเสือ) is the return of a perfect-match partner Kanin Stanley (Ohm) and Prima Bhuncharoen (Prim). Pornsuda Tainaokong from D-One TV produced this action drama.
'Pong-lang-hug-on-sorn' (โปงลางฮักออนซอน) is another romantic comedy drama from Family Plus by Arts Panitnart Chatvilai that stars Denkhun Ngamnet (Denkhun), Chayanit Chayjaroen (Tita), and the appearance of Takkatan Chollada.
Another coming up comedy is 'Love the Way You Lie' (18 มงกุฎสะดุดเลิฟ) by full-of-energy producer, Tye Natapon Liyavanija from Montage Entertainment; it got Jacqueline Muench (Jackie) and Thakrit Tawanpong (Phet) as key casts, joined with Kajbhunditt Jaidee(Junior), Phatrakorn Boosarakumwadi (Cine), Jaturong Ponlaboon, Kotee Aram Boy, and more.
The last but not least is 'The Root' (รากแก้ว) from Change 2561 by Chod Saithip Montrikul Na Ayudhaya and Vorarit Vaijairanai. The Root got Cris Horwang and Supassara Thanachat (Kao) as key casts with Louis Scott (Louis), Pachara Chirathivat (Peach), and Nattasha Bunprachom (Yoghurt).
All the drama will be premier in the second half of 2022.