31 July 2023
Channel 3 Announced Drama Series Lineup for Second Half of 2023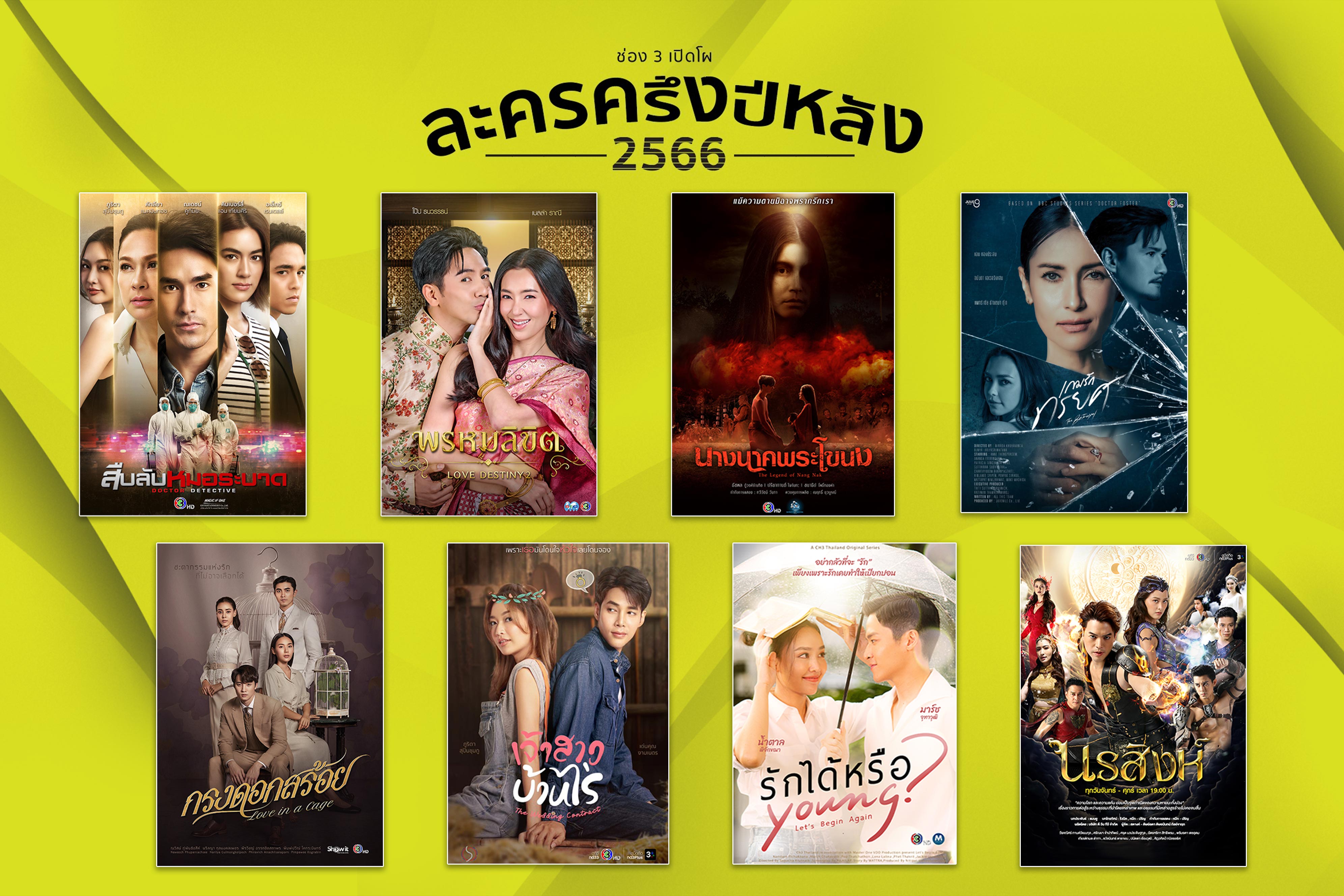 25.07.23: Channel 3 announced the expected drama series lineup for the second half of 2023, which will be full of fun and surprise for fans with various moods and tones of series.
Starting with 'Love Destiny 2', the series sequel of the Love Destiny, which was produced by Broadcast Thai Television. The actors from the Love Destiny are still in this sequel like Pope Thanavat Vatthanaputi and Bella Ranee Campen who will act three roles, with Prama Imanotai, Prang Kannarun, Most Vitsarut, Susie Sasira, and Meaw Chamaiporn. There are numbers of new actors in this part like Namfah Thunyaphat, Cine Phatrakorn, PP PunPreedee, Chai Chartayodom, Typhoon Kanokchat, Ron Patarapon, Peterpan Tadsapon, A Pasin, Ohm Kanin, Beam Papangkorn, Ming Nattharonee, and Methawee Theeraleekul.
Next is 'The Betrayal', a drama series that was adapted from Doctor Foster; this version is produced by Juvenile. The love affairs story was led by Anne Thongprasom, Ananda Everingham, Patricia Good; also, Chai Chartayodom and Joy Rinlanee.
The period drama about forbidden love story from Show It by May Patida, 'Love in a Cage' also cannot be missed. This star the four new generation actors of Channel 3, who are Yada Narilya, Pon Nawasch, Mean Phiravich, and Toon Pimpawee. Also joined with, Poh Natthawut, Tanya Tanyares, Tong Pakkaramai, Namfon Sueangsuda, Pimpan Chalaikupp, and Mutmee Pimdao.
A romantic drama, from Magic One by Aom Phiyada Akarasenee, that stars Nadech and Kimberley first time after ten years, is 'Doctor Detective', a story about an epidemic doctor and a journalist who joined investigation of a mystery. Also stars, Mam Kathaleeya, Kob Songsith, Duu Sanya, Zani Nipaporn, Pompam Niti, and Phupa Nopavich.
'Let's Begin Again' is a comedy drama of Master One Video by Earn Nitipat. Let's Begin Again is a story of a hot guy, stars March Juthanwut, who never falls in love with anyone but an old-fashioned single mom, stars Namtan Pichkkana.
Followed by comedy drama, 'The Wedding Contract' by Kobsook Jarujinda; this is a modernized script to deliver most fun. The Wedding Contract stars Denkhun Ngamnet, Namwhan Phulita, Champ Chanatip, Ice Athichanan, and Janji Janjira.
Also, 'The Legend of Nang Nak', an impressive love story of the local most famous legendary ghosts who is still in love with her living husband. The producer is Narit Yuwaboon from Minds@Work; it features Yiwha Preeyakarn as Nang Kak and Job Thuchapon as Nai Mark. Also joined with Noo Surasak, Jeab Paweena, Champ Chanatip, Fresh Arisara, and Gap Chanoksuda.
Last but never least, 'Norrasing', another action fantasy series about local heroes and demons, produced by Disalada Disayanon Kanjaruek from Dee One TV. This is the met of Mac Weerakaniz and Nink Saranya. Also joined Mil Sarut, Care Chattarika, Jaja Primrata, and Panadda Ruangwut.